Home Education Resources
Friends and Heroes award-winning adventures and Bible stories on DVD accompanied by an exciting cross-curricular Home Education Project Pack - easy-to-use, hands-on, attractively designed, colourful and FUN! Each Project Pack provides a wealth of interdisciplinary studies for your home educated children. The material is highly adaptable and may be easily incorporated with your other home education activities to provide at least two weeks of learning.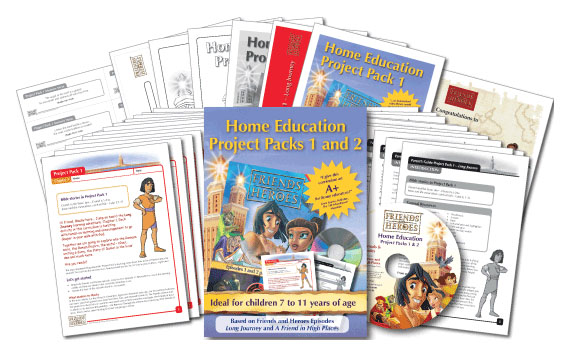 Unique Home Education Curriculum:
Ideal for students 7 to 11 years of age
13 Project Packs per Series - each Project Pack featuring at least two themed Bible stories (usually one Old and New Testament)
Printable and reusable - use with multiple children simultaneously or over multiple school years
Plenty of hands-on activities in each chapter to encourage kinesthetic learners and to keep younger fingers busy
Opportunity for your children to create their own books as they progress through the curriculum (Macky's Journal) — great keepsakes for the children and records of progress
Certificates of Achievement - great motivators and rewards for your hard-working children
Each Project Pack covers:
History/Geography - detailed, age-appropriate exploration of the Ancient Roman Empire and daily life in Early Church times
Science (creation-based) - includes hands-on learning projects and investigations
Creative writing - inspired by exciting video material with stories and characters children love
Bible study - integrated closely into the whole learning experience, teaching children the relevance of important Biblical truths in their lives
Crafts - great hands-on learning related to the subject material of each Project Pack
Discipleship - dealing with issues relevant to the life and challenges of a home educating family - chores, training, generosity, hopefulness, loving siblings, etc
All subjects taught from a Christian worldview
Each Project Pack includes:
Friends and Heroes DVD, usually containing two full-length adventure episodes which serve as stimulus material for cross-curricular studies
All parent and children's materials included on CD-ROM - printable and reusable, comprising of a learner-centred, self-guided Project Manual
Parent's Guide - includes answer keys, certificates of completion and internet links
Flexible Buying Options include:
Home Education Packs (packs are grouped and sold together, according to the number of episodes on a DVD - usually 2)
Boxed Series Sets of 13 Project Packs
If you already own Friends and Heroes DVD episodes, Project Packs are also available on a CD-ROM with a free Online Download:
To order only Project Packs without the corresponding DVD, click on the Project Pack of your choice from this main page. Click either CD-ROM or download from the Home Education Project Pack type drop-down menu. The appropriate type will automatically show up in your shopping basket.